Lifelong learning
Author: Leena Ali
Date: 02 September 2014
Rayburne Whynot of Italy Cross is an avid community volunteer who went back to upgrade his skills in his fifties. Mr. Whynot is a volunteer firefighter and safety officer with the Italy Cross Middlewood and District fire department and the chairperson of the Bull Run Trail Association.
When Rayburne Whynot first entered the workforce as carpenter in the 1960s, he was 16. Back then, finding a job wasn't the same experience that it is today.
"You didn't have to worry about the job, you could go pretty well anywhere and pick up a job," he says.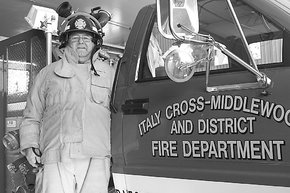 The self-taught tradesman was skilled in plumping, carpentry and welding. His skills helped him obtain work across Lunenburg County, as well as in Halifax and Shelburne.
"I was all over," says the Italy Cross resident. "I just learned them on my own - hands on."
The welding industry was where he would spend the majority of his career. He continued to move forward with better wages and always "went ahead and never went backwards."
But in the last 10 to 12 years of his work, things started to change. There were more courses involved, more reading and writing, training procedures, and a younger generation flooding through with diplomas in hand.
He felt he couldn't keep up.
"As far as us going out and taking a plate and welding it together - that wasn't a problem," says Mr. Whynot. "I started to find it a little rough because it was so many little courses that you had to take ... reading and understanding. I have a problem of comprehending things. It's kinda rough, but the more education that a person gets,I mean, it's going to be better."
When he was in his early fifties, and few years before retiring, he decided to continue moving ahead by signing up for the Adult Learning Network after hearing about it from a colleague. He first thought about the option during a period when he was laid off.
"I thought 'well maybe I might go back and, you know, try to upgrade.'
"I only had Grade 5."
About 10 years ago, he began working with a tutor from Liverpool and soon after he was called back to work.
However, the next time he was laid off, he signed up again, was partnered with a tutor at the Bridgewater Adult Learning Network and they continued to meet one night a week for the next few years.
One day, his tutor asked "why don't you sit in with the classes?" he recalls. "I wasn't sure if I wanted to you know - with the students - because I didn't know how it was going to be.
"[I was] a little nervous about it I guess. So anyway, I said 'alright.'"
Mr. Whynot took part in the classes, with students ages 18 and up, and did so for the next eight years.
"I sat in there for a week or two, then everything settled in. They were good, nice to get along with."
Throughout his years of upgrading, he kept pages of written work along the way, documenting his journey.
"If it wasn't for my wife going out to work three to four days a week after I retired, I could not get there to upgrade because I could not afford the cost of traveling," he wrote.
His wife, Janie, helped make sure their schedules were compatible so he'd be able to get a drive to his classes.
Improving his skills wasn't the only reason he for signed up for Adult Learning.
"I would like to set an example for my grandchildren and other children as well. Starting out and continuing with their education, as I know how important it will be ... It is important to the individual to get all the education they can get and also refresh your education from time to time," he wrote.
About three years ago, Mr. Whynot was also invited to attend a program with Literacy Nova Scotia, where he learned about the nine essential tools of the workplace: Reading, writing, working with others, document use, oral communication, thinking skills, numeracy, computer use, and continuous learning.
As new technologies are introduced and the skills needed in the workplace continue to evolve, so does the definition of literacy.
"[It's] beyond reading and writing and it has been for a lot of years now," says Jayne Hunter, executive director at Literacy Nova Scotia.
It's about accessing, understanding information and using information, which encompasses the nine essential tools, she explains.
Literacy Nova Scotia is a non-governmental organization that works to improve access to learning opportunities, quality literacy and essential skills for all Nova Scotians.
"Say 50 years ago, it probably was just reading and writing and people would leave school at an early age to go out and work in the primary industries ... because they didn't need those reading and writing skills so much then. So it made sense to leave school when you had an adequate amount of schooling and go get a job and work," says Ms Hunter.
Based on the International Adult Literacy and Skills survey (IALSS) from 2003, 42 per cent of Canadians ages 16 to 65 have difficulty with literacy, while Nova Scotia stands at 38 per cent.
In 2012, the Organization for Economic Cooperation and Development (OECD), conducted a survey with participants from 22 countries ages 16 to 65.
The survey called, the Programme for the International Assessment of Adult Competencies (PIAAC) assessed skills including numeracy, literacy and problem-solving in a technology-rich environments (PS-TRE).
PIAAC results released in October 2013, indicated that Nova Scotia ranks at the OECD average in literacy.
According to Literacy Nova Scotia, when it came to the technology-based assessment (PS-TRE), 84 per cent of Nova Scotians completed the evaluation, ranking above the OECD average of 74 per cent.
"Our numeracy is below average [and] problem solving is actually above average," says Ms Hunter, adding the survey is part of an ongoing analysis.
For some people, she explains, perhaps they've had the adequate skills needed for years, "but maybe something changed in their job, and so now they have to learn something new and they find it very difficult."
For Mr. Whynot, organizations such as Literacy Nova Scotia and the Adult Learning Network have helped him improve with the nine essential skills he uses throughout his volunteer work today.
"Being involved with groups like that ... it made it better to get involved," he says.
Mr. Whynot is the chairperson of the Bull Run Trail Association, a volunteer firefighter and safety officer with the Italy Cross Middlewood and District Fire Department. He was also nominated by members as project manager of the new fire department, which was recently constructed.
In January 2012 he wrote, "these two positions require a lot of writing notes, and communicating with others, along with working with numbers."
Whether he's writing a monthly report, looking at data sheets or a drawing, he frequently uses the nine essential skills.
"I feel confident that continuing on with my learning, I can achieve and fulfill my future endeavours."
See original article here: southshorenow.ca